Finished my leaf quilt top the other day!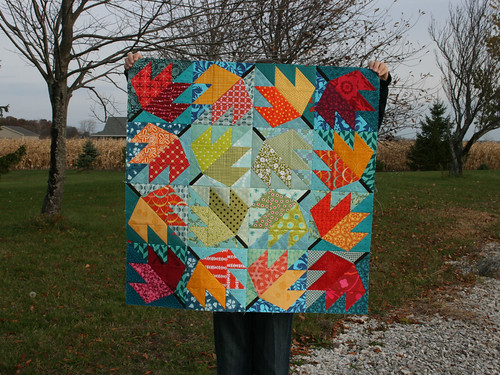 The pattern is called
Prismatic Plants
and it's a free download from
DoYouEQ.com
. You can use the project file in Quilt Design Wizard, EQ6, or EQ7. If you have one of these softwares and aren't taking advantage of the free monthly projects, you're really missing out! Heidi designs
the cutest stuff
!
I opened the project file in EQ7 and made a couple of quick changes. I deleted some seam lines in the leaves because I planned to make each half of the leaf all the same fabric, and there was no reason to have that extra seam in the "body" of the leaf. Plus, I was foundation-piecing the leaves, so who cares about funky-shaped triangles!
And I choose to print the patterns at 7", rather than the original 8", because I wanted the quilt to fit in the wall space above our fireplace. I want to get some use out of this quilt before it's time for Christmas decorations, so the quilting will have to wait because it's going up on the wall today!
Choosing all the fabrics for these scrappy leaves was a fun challenge! Although I make such a mess when I'm working on a scrappy project like this (and I don't have the luxury of a dedicated sewing room anymore where I can just shut the door and walk away!). I liked using the fabric swatches on the download page as my guide--
Being a photographer's assistant can be a tough job!